Musik von den 60èrn bis in die 80èr
The Beat Brothers
Beginn: 20:00 Uhr
Preis: 18 Euro
Selbstverständlich können Sie ihre Konzertkarten auch telefonisch unter 0711 – 550 660 77 an unserem Kartentelefon kaufen. Unsere Mitarbeiter unterstützen Sie gerne bei der Auswahl einer passenden Ticketkategorie oder eines Sitzplatzes.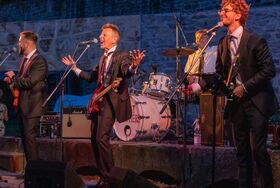 The Beat Brothers
Gitarrenmusik von 1960 bis 1990
In Öhringen und Umgebung kennt man sie längst, obwohl sie nicht aus der Region stammen: Die Beat Brothers. Mehrere Male haben sie bei der Night of Music das Haus an der Walk gefüllt, haben das Kino 2022 komplett ausverkauft. Am Mittwoch, 06. Dezember spielt die beliebte Coverband wieder bei "Kleinkunst im Kino".
Die Beat Brothers sind in Öhringen und Umgebung für ihre super Konzerte bekannt. Zahlreiche Besucher standen bei der Night of Music und beim Konzert im Kino Schlange vor dem Haus um die vier "Brüder" zu erleben. Über 40 Jahre stehen die Profimusiker jetzt auf der Bühne, und sie sind noch kein bisschen müde. Arno, Franz, Philipp und Sebastian sind professionell und sympathisch, authentisch und charmant und spielen hauptsächlich Gitarrenmusik von 1960 bis 1990. Wer sie jedoch in die Sixties-Schublade ablegen möchte, überzeugt sich am besten persönlich vom Gegenteil. Der Schein trügt - der Rocker im Anzug überrascht wie der Wolf im Schafspelz.