Theaterhaus
Siemensstr. 11 70469 Stuttgart

---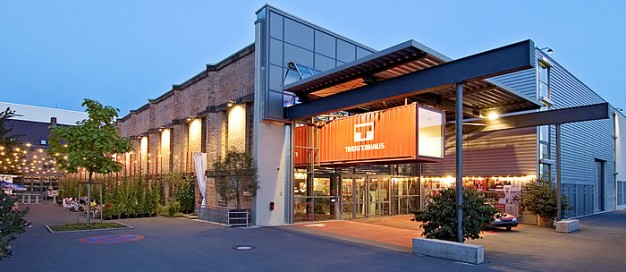 Fotos: © Andreas Feucht
Das Theaterhaus Stuttgart auf dem Pragsattel vereint seit 1985 verschiedene Kunstsparten, Experimentelles und Populäres, international bekannte Künstler und neu entwickelte Projekte unter einem Dach. Herausragend ist die Tatsache, dass das Theaterhaus ein hauseigenes Schauspiel- und Tanzensemble finanziert, obwohl knapp 75% der jährlichen Kosten selbst eingespielt werden müssen. Theater und Tanz werden ergänzt von Konzerten, Comedy, Kabarett, politischen Diskussionen, Lesungen, Vorträgen, sowie Ausstellungen, Kinder- u. Jugendveranstaltungen.
Der Erfolg in Zahlen: Mit ca. 350 000 Besuchern bei durchschnittlich 900 Veranstaltungen jährlich ist das Theaterhaus einer der Publikumsmagnete der Region. Auf 12 000 qm befinden sich eine Konzert-, drei Theater- und eine Sporthalle, sowie Proberäume, Werkstätten und ein zweistöckiges Foyer mit Gastronomie, ein Biergarten im Innenhof und ein Restaurant. Das Theaterhaus Stuttgart ein Ort für Kreativität, Fantasie und Schaffensfreude. Ein idealer Ort für Veranstaltungen, Kongresse, Tagungen.
The new Theaterhaus Stuttgart at Pragsattel is one of the most innovative
cultural projects in Europe and contains a unique mixture of art, sport and social management. The new form of a theatrical institution.
Art AND sport, with a successful programme mixture of drama and dance theatre (inhouse ensembles), jazz, literature, rock and pop music, cabaret, comedy and political discourses.
On an area of around 2,500sq.m there are tthree different sized theaters, a concert room, a sport hall, rehearsal rooms, workshops, a two-storey foyer, a restaurant with an openair-area.
Situated in a former factory building, the "Theaterhaus Stuttgart" at Pragsattel will be a venue for creativity, fantasy and enthusiasm, as well
As an ideal location for conferences.
Allgemeine Angaben / General information
Entfernung zum Hauptbahnhof Stuttgart / Distance to the Station – 4 km
Entfernung zur U-Bahn-Haltestelle PRAGSATTEL /
Distance to the Station public transport PRAGSATTEL – 0,2 km
Linien U 6; U 7; U 13; U 15
Entfernung zum Flughafen / Distance to airport – 24 km
Parken / Parking
Parkhaus / Underground car park: 250 Plätze
Parkplatz / Car park capacities: 250 Plätze
Ausstattung der Hallen / Features of the halls
Klimaanlage / Air-condition
Vollverdunklung / Total darkening
feste Bühnen / Fixed stages
Beschallungsanlagen / Sound systems
Technisches Personal / Technical personnel
Rollstuhlgerecht / Suitable for wheel chairs
Fester Catering-Partner / Inhouse catering partner
Tagungspauschalen / Conferencing packages
Zahlen und Fakten:
Das Theaterhaus steht auf einer Grundfläche von 10.000m², direkt auf dem citynahen Stuttgarter Pragsattel – und erstreckt sich über mehrere Stockwerke.
Der Theaterbau umfasst 8.140m².
Die Verwaltung 2.950m².
Der Biergarten 580m² (350 Plätze)
Das Restaurant 280m² (220 Plätze)